Will you help us keep the donkeys' teeth and hooves in peak condition?
Healthy teeth and hooves are critical to donkeys' wellbeing. Left unattended, the sharp points of teeth worn down by grazing can start to dig into the cheek, causing great pain, and donkeys will avoid eating and quickly become malnourished.
It's a similar problem with hooves. If they're left untrimmed, donkeys will struggle to walk and become disinclined to move towards food or water, increasing the risk of malnutrition, dehydration and even death.
By giving a gift today, we can rasp teeth and trim hooves regularly, and keep an eye out for any lameness or infection, so that donkeys like Coral, who was suffering excruciating pain due to an overgrown hoof, are soon on the mend. And Saffy is another donkey at the Sanctuary who recently needed veterinary care for a wound in her hoof – all thanks to our donors' support.
By giving a donation, you can help us ensure that more donkeys like Coral and Saffy receive veterinary care when needed – to continue living happy and healthy lives.
You'll also be helping us fund our mobile clinics in the West Bank. Our mobile clinics run by Dr Rakan and Dr Eyed ensure that working donkeys live longer, happier and healthier lives by providing veterinary care when needed.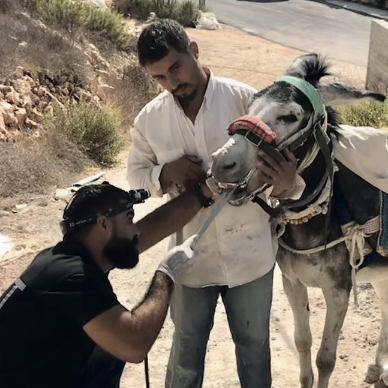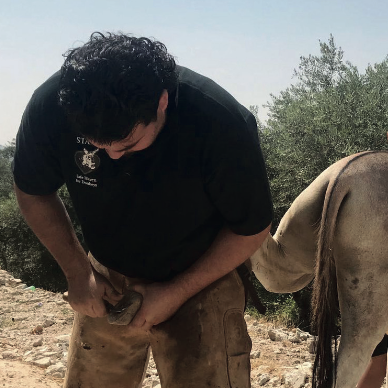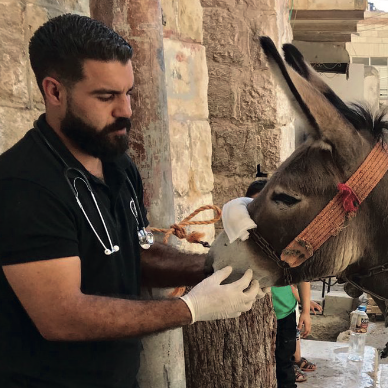 Your donations will help us to care for donkeys at the Sanctuary and Nablus, as well as funding our vet clinics across the West Bank.