Give a donation today
and help us rehome
young donkeys – and
give them a stimulating
and happy new life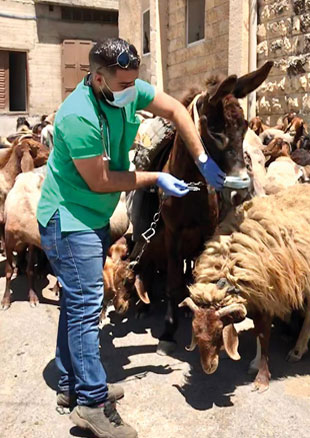 Shepherd donkeys bond with their flocks and are able to graze in their natural environment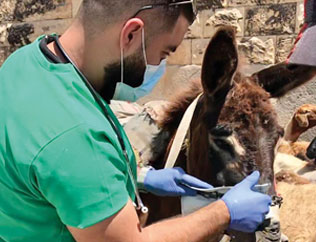 Dr Rakan makes regular visits to check up on the shepherd donkeys' health and wellbeing
Dr Rakan is determined to help as many donkeys as possible in the West Bank, whether it's treating them out on the road with the mobile clinic, or nursing sick and injured animals back to full health at the centre in Nablus.
But sadly, that centre often reaches capacity, and there is no longer enough space for the animals in Rakan's care, let alone new arrivals suffering injuries or with malnutrition and other pressing medical issues, all of whom desperately need help.
Please give a gift today, to help us re-home healthy young donkeys, giving them a happy new start and freeing up space for other donkeys in need.
With your support, we can hand pick each new owner so that we know they'll care properly for their new charges. We can also ensure the donkeys are in the healthiest condition for their big move.
Once rehomed, you'll enable us to make follow-up visits to the donkey to check on their health, providing veterinary care such as inoculations and teeth rasping, when needed.
For many donkeys who have been re-homed, some of whom, like Duncan, have become 'shepherd donkeys', it's a fresh new start and the chance to live a fulfilling and stimulating life. For them, it's an opportunity to bond with the flock and protect them as they journey in search of grazing, while living freely in their natural environment. At the same time, it frees up space at the Nablus centre, ensuring more animals in need get the treatment they so urgently require.