Our Policy
ETHICAL VIEW ON ANIMAL WELFARE
Safe Haven for Donkeys believes all animals are sentient beings that deserve special consideration and respect. Humans have a positive responsibility for the care and welfare of animals that are dependent on them.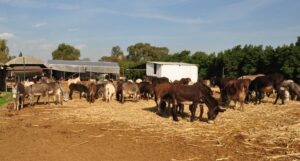 WORKING ANIMALS
Where animals are used for the provision of power or to perform tasks of work for humans SHADH believes that:
These activities should be limited and carefully supervised so as to ensure animals remain in good health and welfare
The animals should be provided with sufficient quantities of nutritional food and water
The animals should be adequately rested and sheltered when they are not performing such tasks
The animals should be provided with adequate veterinary attention in case of injuries and sickness
Any advice given on this website regarding donkey health care is not a substitute for advice from your own veterinary surgeon – if you have concerns, please ensure your vet visits your donkey.
LISTENING TO YOUR COMMENTS
At Safe Haven for Donkeys we are committed to ensuring that our supporters receive a first-class service from us. If for any reason you are not entirely satisfied with any aspect of our service, we want to hear from you as soon as possible. We will then aim to put matters right and take appropriate steps to prevent the problem happening again. Your feedback allows us to improve our relationship with our supporters and is therefore very important to us.
In the event that you wish to make a comment or complaint please contact our UK Office in the first instance by ringing 01444 470 136 or emailwendy@safehaven4donkeys.org.
If we are unable to resolve your complaint immediately we will write to you within 5 working days to confirm that steps are being taken to look into the matters you have raised.