Rescue Donkeys
Here are a few of our recent stories about our work and the donkeys we help on a daily basis:
White Jack with his owner's son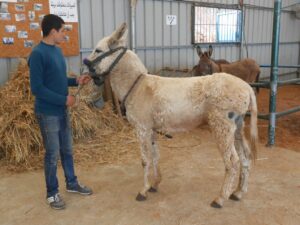 Dear White Jack is a 5 year old male donkey, his owner's name is Husam Hammad and they come from a village near Nablus called Azmout. Husam routinely brings White Jack to our Nablus haven for a check-up and six monthly worming treatments, hoof trimming when needed and a dental check.
White Jack is a very calm donkey and his little life involves helping to herd Husam's flock of sheep as he grazes with them on plots of land between the many small villages. He also works carrying and transporting certain items such as food, water tanks and the important blanket upon which Husam rests his head whilst he watches over his sheep as they roam and graze.
White Jack also has a very special relationship with a little dog friend. Husam has had them both for a few years and says they immediately took to each other and are often inseparable. The dog is named Rex and spends a lot of time guarding his companion and Husam says they are the perfect example of unlikely best friends!
Husam recently came to us to explain he felt that perhaps the time had come to have White Jack castrated as he was becoming a little uncontrollable when he would meet female donkeys.
He didn't want to cause any trouble with other farmers and their donkeys and he wanted a solution that would help to calm White Jack. In the past many of the simple farmers 'knew' a method for castrating male donkeys but it was extremely primitive and therefore inhumane.
Thankfully since we took our work to Nablus and especially since having our wonderful clinic there, the farmers have come to realise, understand and deeply appreciate that the right method of castration is performed by a qualified veterinary surgeon under a full anaesthetic. They see now that their animals recover very quickly with absolute minimal bleeding, swelling, discomfort and pain. To think what so many poor creatures must have suffered in the past is intolerable.
So dear old White Jack came for his operation and is staying with us for a few days to receive antibiotics and the appropriate treatment which includes a good walk each day as this helps combat the risk of any inflammation.
In a few days' time White Jack will be fit to return home and resume his normal duties.
Guess who was patiently and devotedly waiting by his side until he came round from his anaesthetic. I pray that White Jack and Rex will never be separated without knowing what may become of each other.
Abu Muhammed, the elderly owner waiting for us to treat his donkey, Nora at the Nablus clinic
Al Haj Abu Muhammed is an elderly man in his eighties. The term Al Haj is always used in Arabic before a man's name as a sign of respect for the elderly. Abu Muhammed and his son, Muhammed who is in his fifties live together in a little house in the village of Deir Al Hatab near Nablus. They have been going to the Nablus market every Thursday for many years and were so happy when Safe Haven for Donkeys first started working to give treatment to animals in 2011 at the market site before going on, a year later, to build and establish the Haven of Hope.
Every Thursday Abu Muhammed and son, Muhammed visit the Haven with their six year old female donkey, Nora for our vets and farriers to check her. They like to allow her to have a little rest and give her a chance to eat and drink as they are able to sit for a while and chat with other owners. Abu Muhammed tells us how he uses his little donkey to ride to the mosque five times a day, every day for prayers. He says that his clever little donkey senses how old and weak he is and is always very careful and waits patiently as the old man stands on a chair to climb onto her back. Then she knows her way as she takes care in every step she makes calmly and softly to ensure her elderly man will not fall…
Our Nablus staff routinely check Nora and give her any treatment she may need such as worming medicine, dental care and hoof trimming. They say the image of Abu Muhammed arriving atop his little donkey is a very precious picture as Nora carries the old man and Muhammed the son walks alongside them…
Recently, little Nora needed her legs to be treated because of the fly season and the flies had damaged the skin. One leg was worse than the others and was brushed gently with diluted iodine and then covered with antiseptic ointment.
The old man sat on his chair watching and waiting whilst his donkey was treated and thanked us when we finished. Then once again he stood on a chair to climb upon Nora's back and she gently carried him away.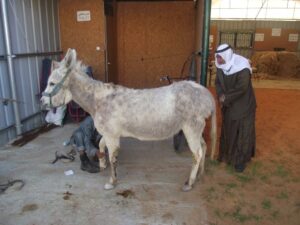 We feel that dear donkey knows when she is coming to our haven and she knows we are there to help her and treat her…
Cases such as this make us all feel immensely fulfilled and happy because we have helped yet another deserving little donkey and also her owner too.
In Al Haj Abu Muhammed's own words, "without my donkey, I would stay at home and if I would stay at home then I wouldn't get out to see the world and if I didn't get out to see the world then I would die.".