PRACTICAL EDUCATION FOR DONKEY OWNERS
Donkeys are owned by older children, teenagers as well as adults so we need to educate everyone.
There are three main causes that affect the health and condition of working donkeys.
• Poverty where people cannot afford veterinary care
• Historic and cultural practices with 'old wives cures'
• Poor fitting home made harnesses that often result in infected cuts
• Deliberate cruelty often from youngsters who experience cruelty themselves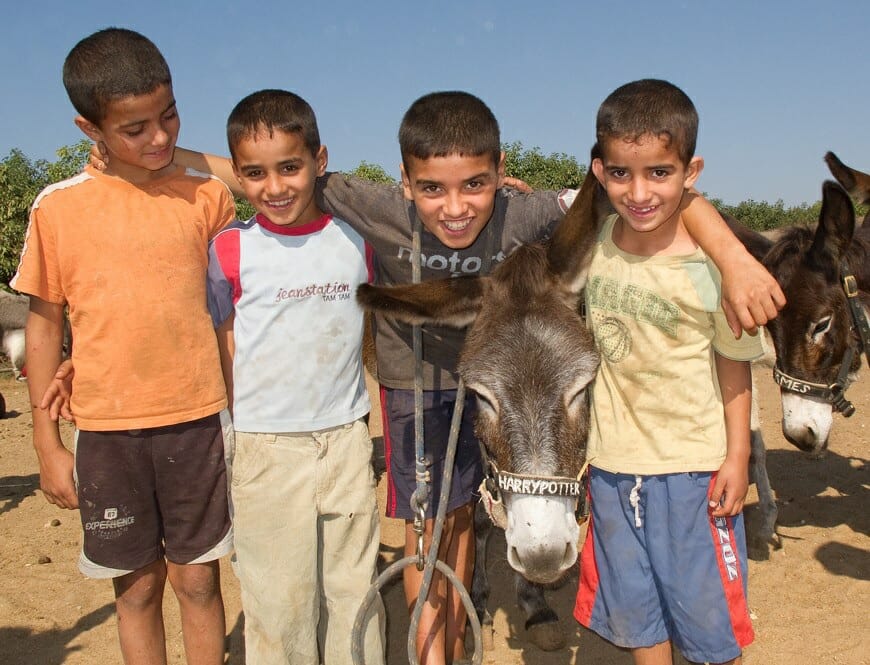 In treating all donkeys in our field based work we address these issues by first of all providing all veterinary and farrier work for free. While we do this we are educating the owner not only on immediate care needs but also on how to improve the general health of their donkey. We also educate on improved harnessing and tethering methods. We issue specially written pictorial books in Arabic to children and adults.
Our clinic at Nablus is used to run courses for adults and children on general donkey care. We have ran specialist courses in farrier work for farmers with great success. Dr Rakan runs regular sessions in schools and we seek to extend this work as it does have impact. However we have met with some resistance to extending our work into schools from some educational officials. So we also need to educate officials at a high level!
Too often we rescue poor donkeys who have suffered from terrible cruelty. Cases from beating, cutting off tails and ears to deliberate setting on fire. What do you do? Well we make every effort to track down the culprits. When we find then we do not scold or condemn. Instead we bring then to our Safe Haven rescue centre or our clinic in Nablis for a day. Here we teach them practical donkey care. In most cases we case see a definite change in attitude and are confident that there will be no more cruelty.
For the future we need to expand our education program in schools and build more rest stations. We also plan to equip the rest stations with modern power-point type presentations and videos for much greater impact.
So we do what we can to provide practical education at every opportunity to both children and adults. We certainly need to do more and like everything else this needs your support.